Every city needs its narratives. They remind us that our experiences are shared ones. Towards the beginning of The Preatures' set at the Enmore Theatre last Saturday, the third show of their national tour launching the new album Girlhood, front woman Izzi Manfredi told the audience, "a lot of people have been saying that this record's about me being a woman in the recording industry. That's just fucking false. I wrote it about growing up here in Sydney, being a girl." It was clear that she was glad to be home.

The Preatures are the quintessential Sydney band: hard to define like the city's character, a fascinating mix of subcultures, styles and stories, always drawing from the past, yet inextricably modern. Girlhood is an undoubtedly sentimental album, largely based on Manfredi's formative adolescent years. Each song creates an image in which we can all place ourselves: walking home at 4 am under a star-filled Australian sky, trying to figure our shit out in high school, smoking in the dark alone, getting your heart broken, feeling invincible. There is an element of melancholy too, perhaps the band reflecting on the way our lives have become less spontaneous in the hyper-technical, over-regulated modern world (Manfredi is also a known supporter of the Keep Sydney Open movement). Nonetheless, at one of the city's most iconic venues The Preatures paid homage the stories we've all shared in this place in an exhilarating homecoming, and their fans were glad to have them back.
The night opened with supporting acts Hair Die and Polish Club, both fellow Sydney bands. An-up and-coming post punk group, Hair Die definitely seem to have their shit together. Consisting of red-haired brothers Cal, Monty, Sam and lead vocalist Alys Hale, their stage presence is as enticing as their no-bullshit approach to music. Check out their first single
here
. Polish Club describe themselves as "the sweatiest rock band in Sydney" and the audience could attest to it. The duo of David Novak and John-Henry Pajak juiced their 45 minute set and had the crowd in the palm of their hand, asking the minors in the building to cover their ears for the track
Don't Fuck Me Over
.
The main act made their way onto the stage to thunderous applause and launched into the night with
I Know A Girl
, their infectious girl-power anthem from 2016 celebrating the women in Manfredi's life. It was the perfect introduction to the new material from
Girlhood,
interspersed with favourites from their 2014 debut
Blue Planet Eyes
. The stage was bathed in blue light for the rock ballad
Magick
, a bittersweet breakup track that wooed the crowd with its droning synth and guitar chords beneath Manfredi's provocative vocals. The title track
Girlhood
was electrifying, as the singer looked over the audience with her signature death stare-cum-grin, singing "
whatever makes me a modern girl, well nothing makes me a modern girl
."
​
A highlight of the night was
Yanada
, the song which Manfredi co-wrote with Sydney Darug woman Jacinta Tobin, the chorus of which is sung in the indigenous Dharug language, (Yanada means moon in Dharug). The singer paused to tell the crowd the story of its inception, of how she felt the need to pay respect to the people of the land on which she has lived and experienced her own sense of belonging to. She spoke of the importance of recognising and learning indigenous culture and language, a narrative of Sydney, and more broadly Australia, that can often be overlooked. Along with its profound significance,
Yanada
was a hit.
Cherry Ripe was another more mellow moment, a ballad in which Manfredi speaks to her younger self, a confused teenager in a tumultuous search for identity, not knowing her full potential. We'd all been there.

She told us Night Machine was the last song. We knew it wasn't. Following deafening applause Izzi returned to the stage alone, sitting at a keyboard beneath a single white light for Your Fan, a simple and immensely likeable tune reflecting on her journey, from being a fan of music to being a musician. She reminisces on the days of fantasizing over her idols, camping out for tickets, reading TV Magazine, the days before social media and phones, when things were more genuine. The atmosphere was palpable. It was magical.

But it was too sombre of a note to end on. The band returned to the stage and launched into their best known hit, Is This How You Feel?, a song you can't help but move to. Streaming out onto Enmore Road, the crowds were buzzing and rowdy. It was 11:30 but it felt like the night was young. The Preatures' might be lamenting the loss of old-world charm or our decreasingly spontaneous experiences.

But they're bringing it back for us.
Powered by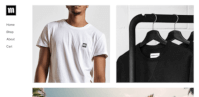 Create your own unique website with customizable templates.