Yesterday, while emptying an old sim card which I hoped to reuse, I came across some old footage which I had taken on my little silver digital camera when I was around the age of 11. None of it was particularly enthralling, mostly capturing inane scenes of day to day life or images my friends and family. But I find it beautiful captures the excitement and purity of a childhood on the cusp of the digital age. The subjects are innocent and undeliberate, fascinated by the camera, whether in front of or behind it. After filming, we would all gather around the tiny screen to watch the shaky, hand-held image we'd created, often ending up in fits of laughter.We would film anything and everything.

With the way in which technology and digital photography has become so widespread, it makes me wonder whether we've lost some of the childlike authenticity in the way we interact with the visual world, in our gaze.
Powered by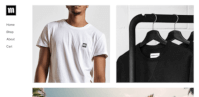 Create your own unique website with customizable templates.